Pinus pinaster research
Pinus pinaster Ait., commonly known as maritime pine, is the main forest tree species for timber production in Portugal. As it is a well adapted species to large proportions of the country has been widely used in the past in the afforestation initiatives.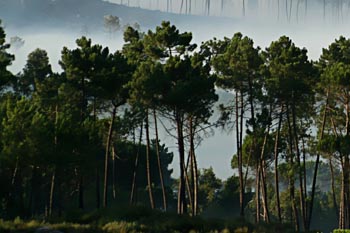 Pinus pinaster research concerning its growth an yield modelled through process-based models has already started with a a Master thesis carried out by Patricia Alexandre and co-supervised by Luis Fontes:
Patricia Alexandre (2009) "Calibracao do modelo 3-PG para povoamentos de pinheiro bravo (Pinus pinaster) em Portugal" Instituto Superior de Agronomia. Universidade Tecnica de Lisboa.
This work will be continued by Luis Fontes through the support from the TRANZFOR programme at CSIRO where research work is also being done with 3-PG and Pinus pinaster.